Mastering Composition in Photography & Art
Canon of Design Mission Statement
This site is dedicated to sharing the design secrets of master painters, and translating them for artistic photographers. By sharing these powerful secrets, I ultimately hope to change the future of art.
The Canon of Design represents artistic integrity, and enables you to leave your mark on this earth as one of the most talented visual communicators ever known. Learn the language of design to stand with the great masters and reflect the beauty prominently found in nature. Endure the journey to achieve artistic excellence!


Learning from Master Paintings
The amount of knowledge one master painting can provide is huge…enormous! We can tap into the techniques that have been used to create masterpieces for centuries. First, we must decode the secrets, and that's what this site accomplishes.
It might sound strange that we can become amazing photographers by studying the work of master painters, and that's because it is. It's not what the masses are doing. They're in expensive schools learning about the rule of thirds and leading lines (it happens to us all). Though, if you talk to famous photographers, they're sure to confess that they intently studied the paintings of masters.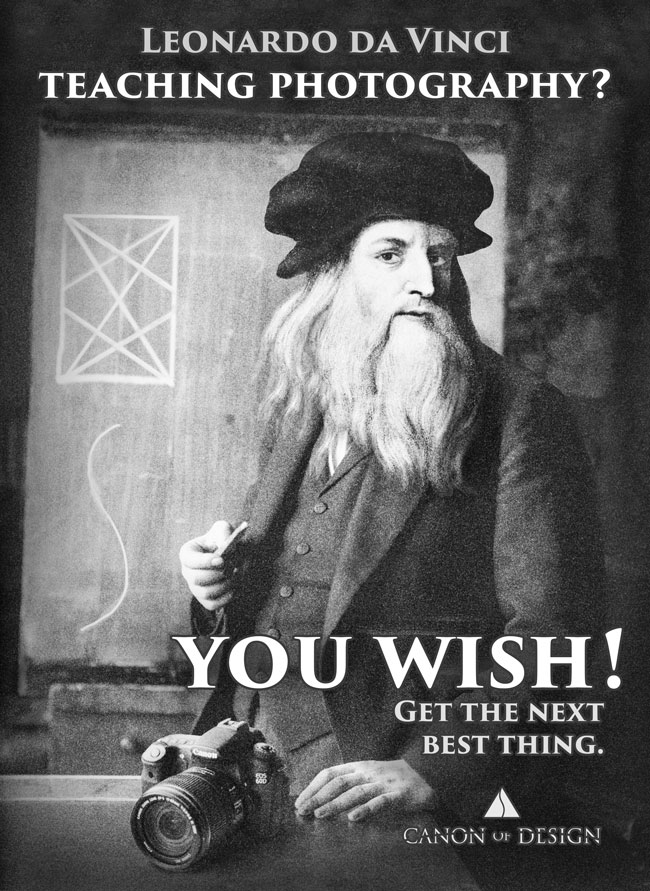 Thank You So Much!
Thanks for taking the time to visit! Just being here on this page shows that you have a slight curiosity about mastering composition, and want to improve. Even if you are a beginner or a professional, most of these techniques are overlooked, or not even mentioned….no kidding. Some people rely on their gut to guide them, or worse yet, the rule of thirds (#AbolishROT). Both are unreliable as you will discover throughout this project.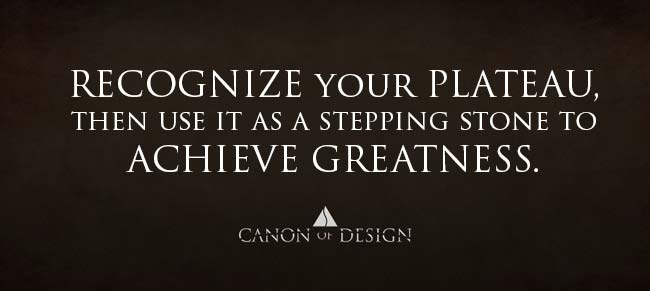 Why Would I Commit to Such an Impossible Project?
*Launch Day for the Canon of Design 365 Project was September 28th, 2013. Original Name of 365: "The Rule of Thirds Killed Design and Left it for Dead."
The Canon of Design started as a 365 project, where I would upload one composition related article, per day, for a full year, but it's become so much more than that! You're probably sick and tired of all of the junk you find on the internet and are thirsty for some REAL knowledge. I know I was! That's why I created the Canon of Design…so artists could have a place to go to when they were ready to take their art not just to the next step, but to the master level. Thousands of artists visit this site every day, so you're not alone.
I refined the information I found in school, books, personal experience, internet, trial and error, and wisdom gained from studying and analyzing 100's of master works, then presented it to artists in need of reliable, applicable content.
One article a day, for a year is quite the commitment, but I knew it would be something extremely important for the world of art. The Canon of Design was created for photographers and artists of all kinds to benefit from for years and years to come. It's the only resource on the internet with this much invaluable information on mastering composition.
"Skills grow on a basis of understanding, not on ignorance."
~Myron Barnstone
The Canon of Design was created to help introduce to you some methods of visual perception, design and composition that will help you in your photography, but can also be applied to cinematography, painting, drawing, sculpting, architecture, interior design, graphic design…it can applied to any visual art.  It's the key to mastering composition, understanding and creating your own masterpiece!
Sure, to some of you it may seem a lot at first, but if you get one or two concepts down, then you will have more to learn when you're ready. Learn to crawl before you run a marathon. By all means, take baby steps to master composition!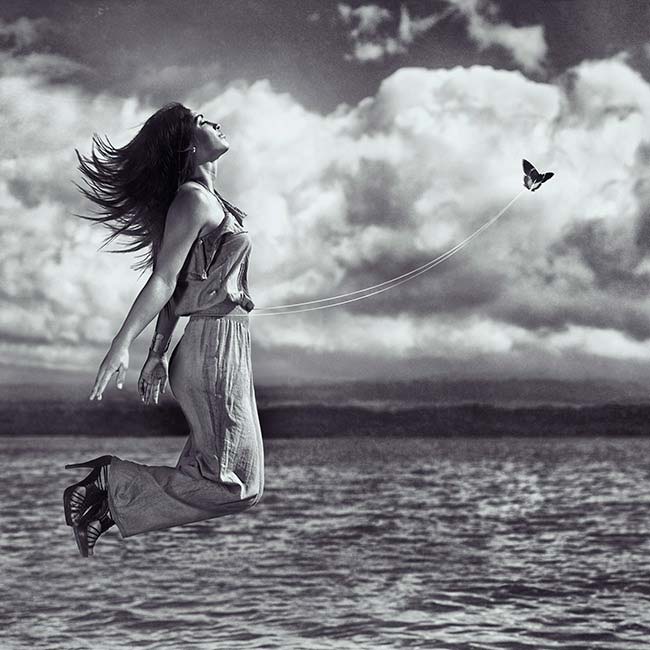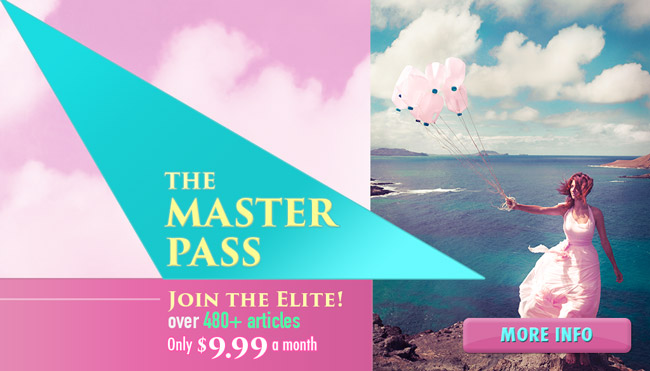 Learn the Way That Works Best for You
I've created two different ways to browse the articles; linear and structured. Whether you like everything in order, from start to finish, or if you learn better when everything is organized. I've got you covered 😉 All of the information is important, but now you've got options to help you navigate the way that works best for you.
See What they are Saying on the Front Page of the Internet
Reddit is known as the "front page of the internet", so it's interesting to see fans and skeptics alike who have discussed this 365 project while in it's infancy (read the comments) . I'd love to hear what the skeptics have to say now!
Here's another discussion (read the comments) where they talk about the Van Gogh analyzed painting (see Day  54). The proof is in the pudding, as they say. Read the painting, and you'll reveal the secrets of the masters!



Much Love for All of the Amazing Support!
Huge thanks to all of the artists that have shown tremendous support since the beginning!! Read all of the nice emails, comments and reviews they have sent to help keep this site going.
"How to build the foundations of a great image. This is the work of a very dedicated and skilled photographer who shows us not only how to take pictures, but how to build the foundations of a great image." Amazon Customer
"Helpful guidance for a never-ending learning curve! I have found the Gr8est teacher of our times! What an amazing Author with an abundance of knowledge and well appreciated research of his learning curve and willingness to share with another. God Bless you Tavis Leaf Glover! You are a very passionate and giving Artist! I appreciate your patience and understanding and willingness to help your fellow artist . . . thank you!" Amazon Customer
Full review on DIYPhotography.net, In short. If you haven;t bought this yet, you're far worse at composition than if you had. Buy it. Joseph Parry
Hi, thank you very much for your help in the country can not find such professional composition learning materials, only a few of the format tower psychology is very tedious and not practical, I accidentally saw your composition theory, feel very interesting, so it came to your website. it is like the discovery of the new continent, the knowledge of my previous knowledge of the scattered knowledge has become the most fundamental method, which is my photography composition is very helpful, I will put this Website to share with my friends! Thanks! 王 垣铮
Tavis: Just wanted to drop you a line and let you know how useful your information has been.  Working on reading through all the member content and loving the freedom of the dynamic grids.  I've attached a current piece (low-res version) I'm working on with one of the grids over-layed.  I made some changes and alignment to the composition based on the grid and I do think it works better now (but as far as my correct use of the grid–that may be a different story).  Just wanted to show you what I've done with your info and encourage you to keep teaching! Tony Fernandez
"Hi, I'm learning a lot from your blog. I love it in fact, it challenges my critical thinking. I am not disappointed by your videos. It's fascinating to try to see what you share/teach/advocate in a self-made production. Well done, I find the effect of water going back in time strangely hypnotic." ~Wearyspecter
"This is really a gold mine of information… Thank you so much! I am sure to be posting more across all of these post. I have been trying to understand composition for some time now, for photography, Graphic Design and Fine Art." ~ Russell Spears
"Mr Glover, I've been following your blog these past few days, and I am so impressed 😀 Thank you so much for doing this, it's already affected the way I think about and see the world, not to mention paintings and photographs! As an aspiring photographer, all of this information is priceless. I am really eager to continue reading your blog! Thank you so much! ~ Martin
Your dissection of HCB's work simply just blew me away. Consider me now a believer of the Canon of Design. ~ Hafizuddien Ju
"I love this project and all the information you've been laying out here. Thanks so much for doing this its been incredibly helpful. Its pretty crazy to me to consider how long I've looked into composition techniques and how long it took to come across some really useful stuff." Kyle