Photography Composition and Design Book [Street Photography]
Street photography is one of the toughest genre's of photography out there. The same goes for family or wedding photography. If you think about it, they are similar in many ways. We all hope to capture a unique moment, with a compelling story, great composition, and visual clarity. The techniques taught in this book will give you the edge you need to vastly improve all of these desires.
Countless photographers out there want to push their art further, but they've run face first into a nasty plateau. Are you satisfied with your current skill level? Elite artists are never satisfied. Absorbing quality knowledge and applying it is the only way to become a master of your craft.
Do you want to be like other photographers, using their "gut instinct" and luck to capture something remarkable? If we want to excel as artists, we can't be too lackadaisical or frugal to invest in quality knowledge that can majorly boost our current skill level? Never join the masses, join the elite!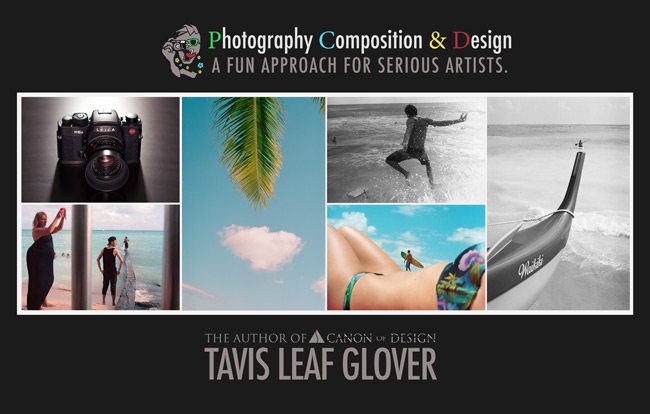 Photography Composition & Design Book Description
Learn serious composition and design techniques in a fun way that will launch you to the master level. You might even get a chuckle from the film photos capturing whacky tourists as they wonder aimlessly on the beautiful beach of Waikiki, Hawaii. Take part in the fun and seriously improve your art in a way that would make Da Vinci and Van Gogh smile with pride!
Street, wedding, or family photographers will love the powerful techniques demonstrated inside. There are 266 pages (printed or PDF version), over 350 photos and diagrams, tons of techniques covered, and assignments to get you started!
Photography Composition & Design Book Preview
Here's a fun little preview I made here in Waikiki, Hawaii. Check out the beautiful scenery from the beach and enjoy the flip through!
Amazing Words from Artists Around the World!
Holy crap mind blown!!! Design it just makes sense.  Before design I was growing more and more frustrated with my photos. Having exclusively used ROT for everything. I'd see a great shot stick it on a third and more often than not blah. No matter what it was, it had to go on a third.  I was seriously thinking of giving up on photography but my girlfriend sent me a link a friend of hers shared on FB. After watching a couple of videos on YouTube and seeing your work I thought I'd give it a shot. By the way you have an amazing portfolio. I received  Photography Composition and Design: A Fun Approach for Serious Artists back in June and I just got done reading it today. I know I'm a slow reader. In fact it's the first book I've read in years but the first of many.  Also I try to read a couple of articles and watch a video a day. Even though I don't see every design technique you see while analyzing a work of art. I'm hoping with all the repetition the knowledge will become second nature and one day I will.  I wanted to take the time to say thank you for all your hard work you've put into your book and website. You've done a phenomenal job, keep up the great work! You've saved me from the dark alley and set me on a different path, a better path. For that I'm eternally grateful. Thanks a million Tavis.
Gabe Perez
Hello Tavis, Thanks for offering this great book. As you noticed, I am involved with the curating and teaching of photography at The Ansel Adams Gallery in Yosemite.
I feel that the knowledge which you are offering is greatly needed. I am not certain why photographers are not educated like other classical artists.
I am looking forward to the PDF release of your photography specific book.
Kind Regards,
Michael Wise
The Ansel Adams Gallery
Yosemite National Park
I recently discovered your Canon of Design site and read through the article on PetaPixels ("
10 Myths About the Rule of Thirds
").  As a digital artist, I was really happy to see an alternative approach to composition (I too have been trapped by the rule of thirds–and it's tough to break).  I purchased your grids (for the computer) and read through both articles included in the pdfs.
Thanks,
Tony
Hi Tavis,
That's brilliant thank you very much, the link worked fine!
Very excited to get stuck into this book – the techniques on your blog have actually been quite life-changing for me as an artist and have really helped me to push towards the career I really want, so thank you!
Best regards, Katie 
Cheers mate, keep up the good work.
Your website is like an oasis for people who want to know more about composition and art.
Geza Kadas
Photography Composition & Design Book Review
Here's an excellent and entertaining book review from Andrew at Modern Artist on YouTube. He did a great job of reviewing the book and demonstrating the way dynamic symmetry can help you create more interesting compositions (surpassing the rule of thirds) by incorporating more diagonals and geometry. Thanks Andrew for sharing this information with other photographers!

Table of Contents
The table of contents below lists all of the amazing techniques that are covered…figure-ground relationship, law of continuity, separating shapes, color theory and more. Not to mention all of the great philosophy behind shooting photographs when you are out and about. No other book puts together these powerful techniques in such a simple and fun way!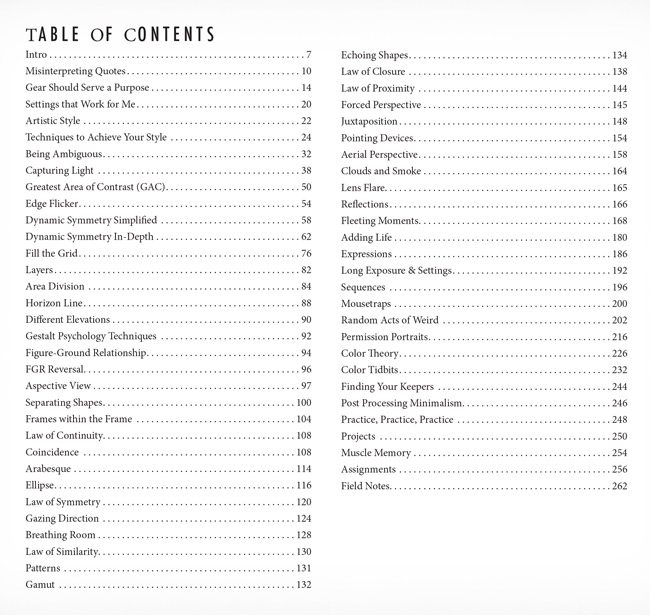 Page Previews from the Photography Composition & Design Book
Here are a few samples of the book and PDF page layout. The PDF is coming mid-February. You can download the high resolution samples HERE to read the info a bit clearer.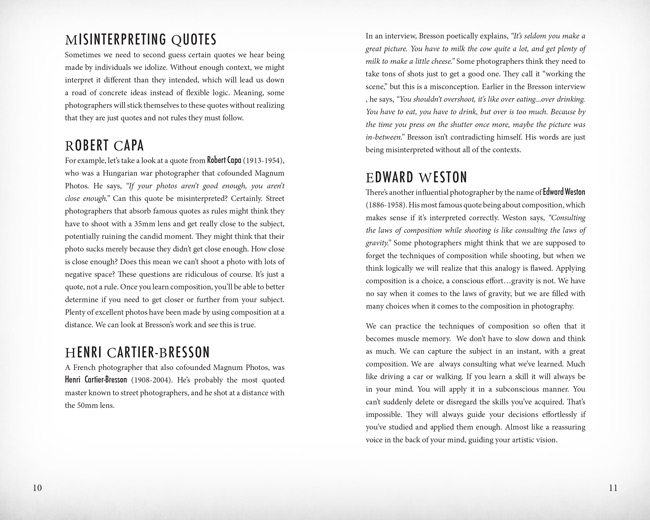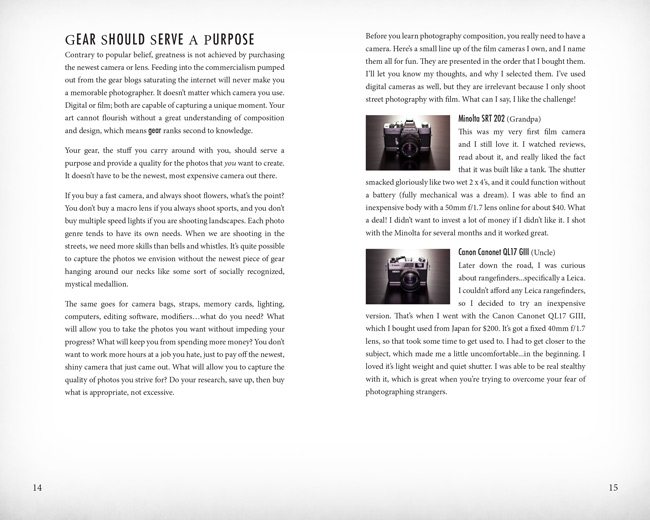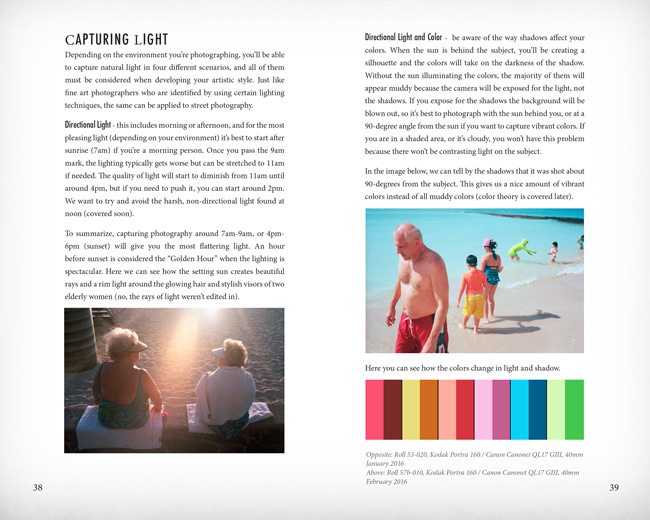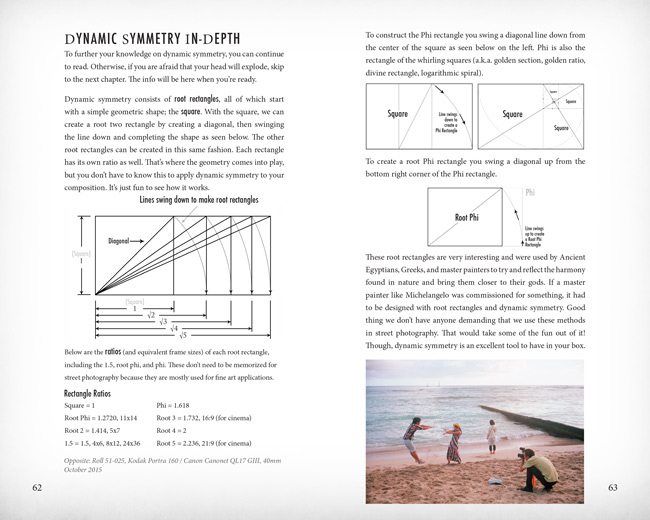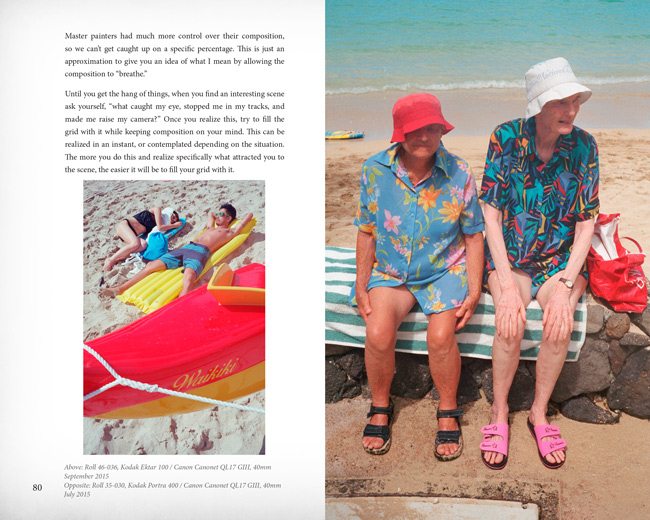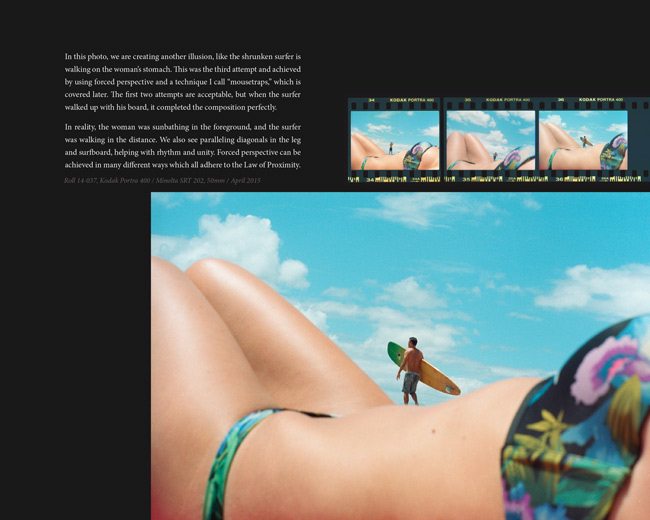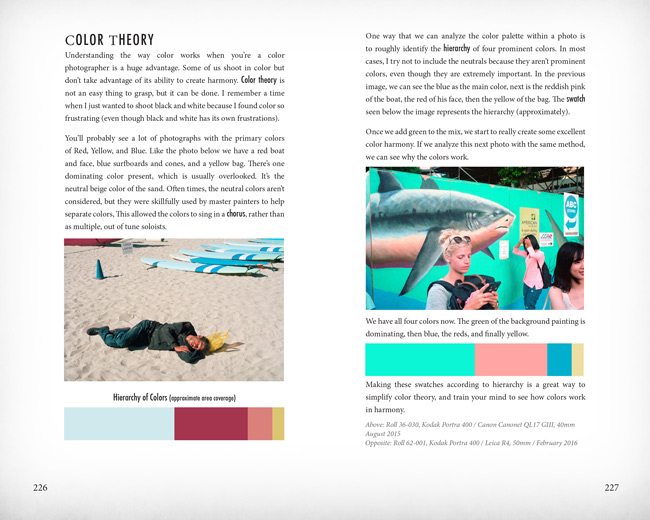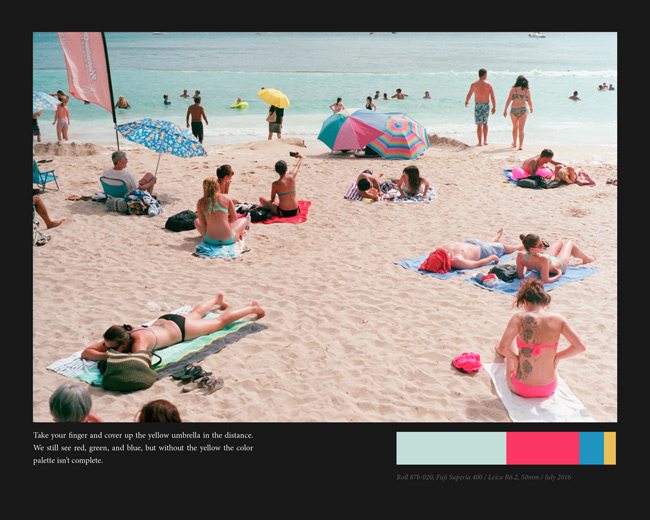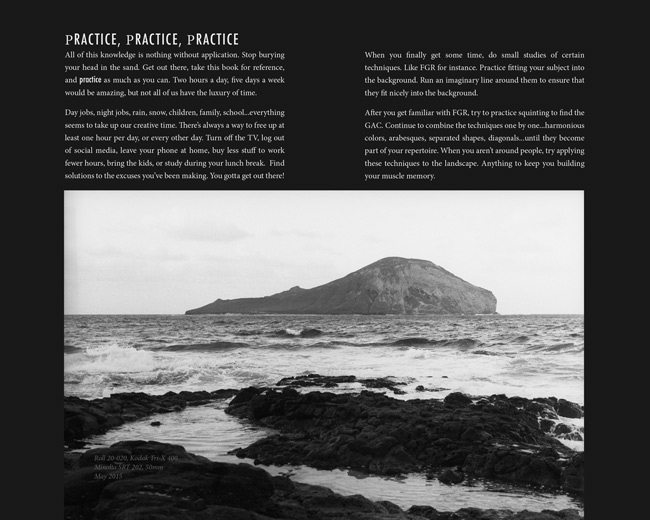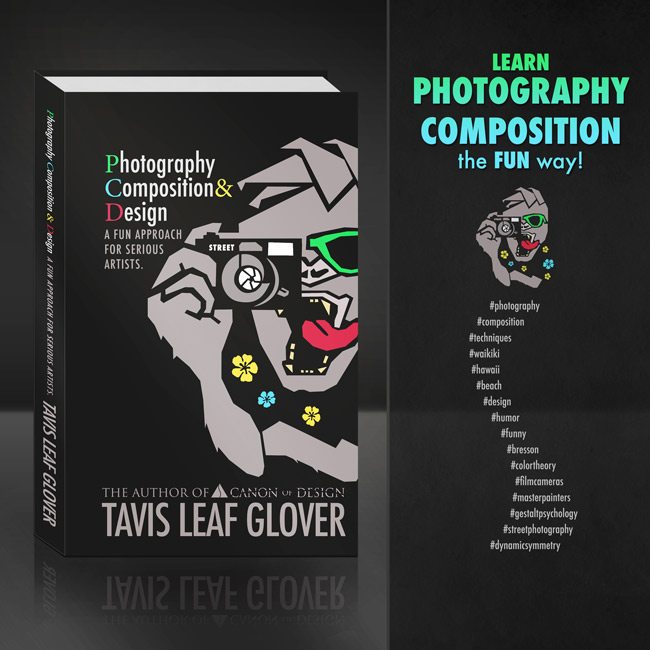 Street Guerrilla Night Photography Video
My friend Mychal Sargent from Sunburned Albino Productions made this awesome video of us doing some night street photography in downtown Honolulu (January, 2012). I've learned so much since then and have jam packed it into the book.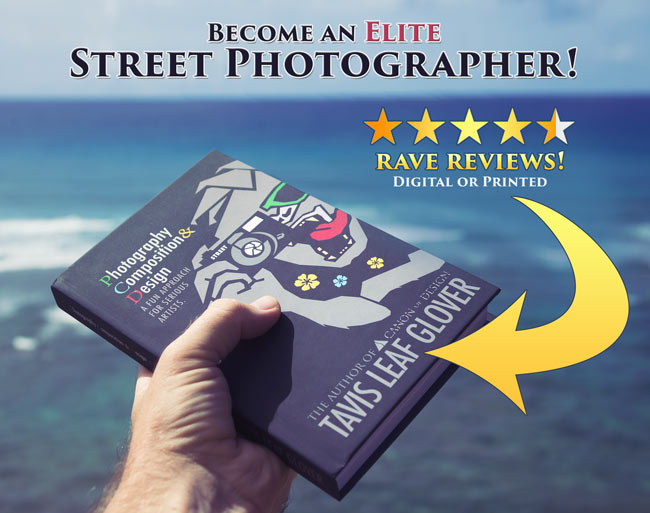 Rave Reviews on Goodreads and Amazon!
1. Order a Printed Copy & Carry it Everywhere

The printed book is beautifully created by Blurb. The images are vibrant and crisp, and it comes in three different varieties; hard cover with a dust jacket, hard cover with image wrap, and soft cover. Check out the free preview of the hardcover from Blurb below.
There are 266 pages, over 350 photos and diagrams, tons of techniques covered, and assignments to get you started!
Click HERE to Buy the Hardcover with Dust Jacket $79.99 $59.99 (25% Off)
Click HERE to Buy the Hardcover with Image Wrap $79.99 $59.99 (25% Off)
Click HERE to Buy the Softcover $59.99 $46.99 (25% Off)
Flip through a few pages HERE.
*The preview may look stretched, but the printed version looks perfect.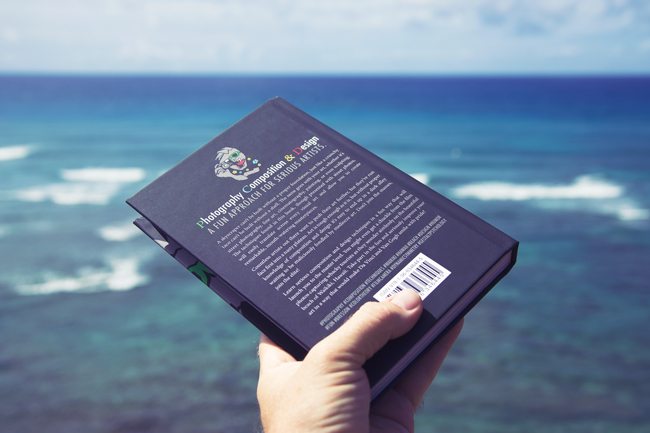 2. All Digital Formats Available
Enjoy reading the PDF, eBook, or Kindle anywhere you like! Yes, you get all three formats to read it however works best for you now, and in the future. The digital books are designed and styled beautifully, and the PDF is exactly like the printed version.
Within the instant download, you'll find a High Resolution version for crisp images or printing the book at home, and a Lower Resolution version if you are downloading from your phone or traveling.
I've also got a Spreads version for you within the download…this way you can see the large, two-page images as a whole. This will give you the best feel for the amazing printed book…as seen in the examples above.
There are 266 pages, over 350 photos and diagrams, tons of techniques covered, and assignments to get you started! Check out the ebook screenshots below (from an iPad), where you can see the functions of highlighting, table of contents, bookmarking, and more!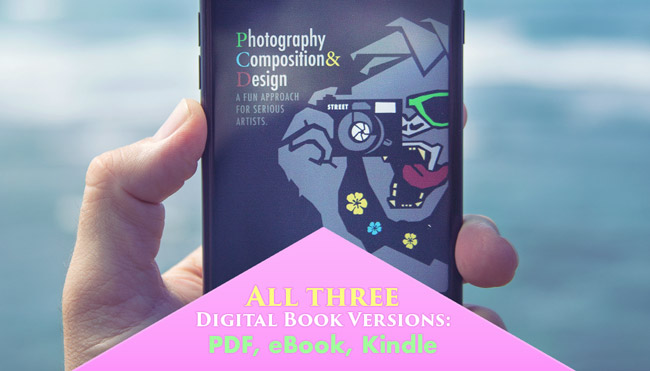 EMAIL Download includes:
1 – Photography Composition & Design PDF (High Res, Spreads, and Low Res)
1 – Photography Composition & Design Kindle eBook
1 – Photography Composition & Design iPhone/iPad eBook
After purchasing the book, you will receive an email within 1-8 hours that will include your download links. On a MOBILE DEVICE? No worries! With the link in the email you can get the goodies when you're back at your main computer.
Download Size: 644.1MB
$29.98 $14.99 SAVE! Three formats for the price of one!
Assignments and Field Notes PDF Download – FREE
These are made for artists who have purchased the digital download and want to print these assignments to help them achieve their goals.