The Ultimate Package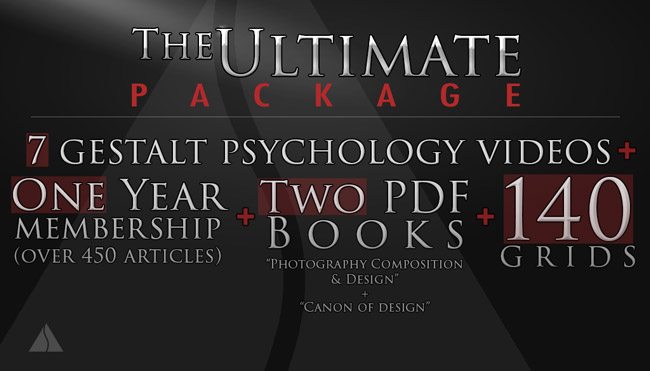 Mastering Composition with The Ultimate Package
I know what you're thinking, "The Ultimate Package…really?" Ok, it's a cheesy name, and "Epic Package" was already taken. Plus, the word "ultimate" really does describe how awesome this deal is! Tears of joy will roll down your face once you apply the techniques throughly demonstrated throughout the blog, videos, and books. Why wait? Drastically improve your art now with the Ultimate Package!
What's Included in The Ultimate Package?
1. Seven Composition Videos– the entire VIDEO COLLECTION (more info) of the Gestalt Psychology for artists is at your fingertips. You'll surely master composition with the techniques demonstrated throughout on-location photo sessions, and tons of examples. (Total Running Time: 1hr:27m, Quality: HD 1080, Download Total: 4.64 GB)
2. One Year Membership – with THE MASTER PASS (more info) membership you'll have full access to over 365 articles, 100 analyzed works, and free downloads from the resource page. No need to continually search the internet for masterful composition techniques…it's all right here!
3. Two PDF Books – the concise and inspiring "Canon of Design – Mastering Artistic Composition" (more info) and "Photography Composition & Design" (more info) will be all yours in PDF format. Load it on your mobile device and take it everywhere you go. Heck, you can even print it out because I made sure it was the highest quality for you!
4. 140 Dynamic Symmetry Grids Package– Every grid available will be all yours! Used for photography, drawing, painting, and cinematography (more info).

I Want The Ultimate Package…NOW!
Wanting the Ultimate Package now? Please click on the "Buy Now" button to purchase this jaw dropping, mind blowing package. Take control of your art and surpass your plateau!
*After purchasing

the Ultimate Package you will receive an email with your

login info

and 

download password

. I will send the email ASAP, but please allow 3-8 hours for time zone differences. If your email is

different

than what is in PayPal, please

email

me a current one. Making money is far less important to me than making people happy 😉
The Ultimate Package Download $319.98 $99.99 WOW, you get EVERYTHING! 
On-Location Photos from the Gestalt Psychology Video Series